Elegant Modest Dresses at Affordable Prices
Searching for modest wedding, prom, bridesmaids or even church dresses with sleeves? 
Glad you found us!
Covid-19 Precautions
Our store is open to the general public, but we are limiting the number of people in our store.  Call us at 480-868-8906 for details. 
We'd be glad to help find your dress with a phone consultation, especially if you cannot visit our store. 
Our Modest Wedding Dress Collections
---
We've slashed prices on gowns in our Discount Bridal Collection!
---
Modest Prom, Bridesmaids and Casual Dresses
---
A Closet Full of Dresses
1249 N Greenfield Rd #103 Mesa,AZ 85205
480-868-8906
Mon - Fri, 11am - 5:30pm
Saturday, 10am - 5pm
Closed Sundays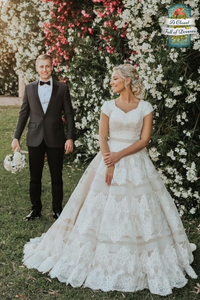 A Closet Full of Dresses on Instagram
Follow us on Instagram to see real brides, new products and promotions/discounts/specials!
Follow us on Instagram
A Closet Full of Dresses on Pinterest
Follow us on Pinterest to see many of our real brides, our favorite photographers and new products/specials!
Follow us on Pinterest
Serving you with an extensive in-store inventory
Many times dress designers cannot deliver special orders in time for your wedding date. That's why we have a very large inventory of dresses for you to buy off-the-rack, either at our Mesa Arizona store or online!
Read Our News Posts!
---
We've slashed prices on lots of bridal gowns! Here are some awesome bargains for brides looking to find elegant yet cheap modest wedding dress styles. The COVID-19 pandemic has affected many couples planning...
You're going to Prom and now looking for a dress. So many styles and colors to choose from! Many department stores have beautiful gowns yet would not meet your modesty...
Allure Bridals Modest Collection for Spring 2020 now available at A Closet Full of Dresses